Deneweth's Loyalty Reward Program
Grow Money With Deneweth's!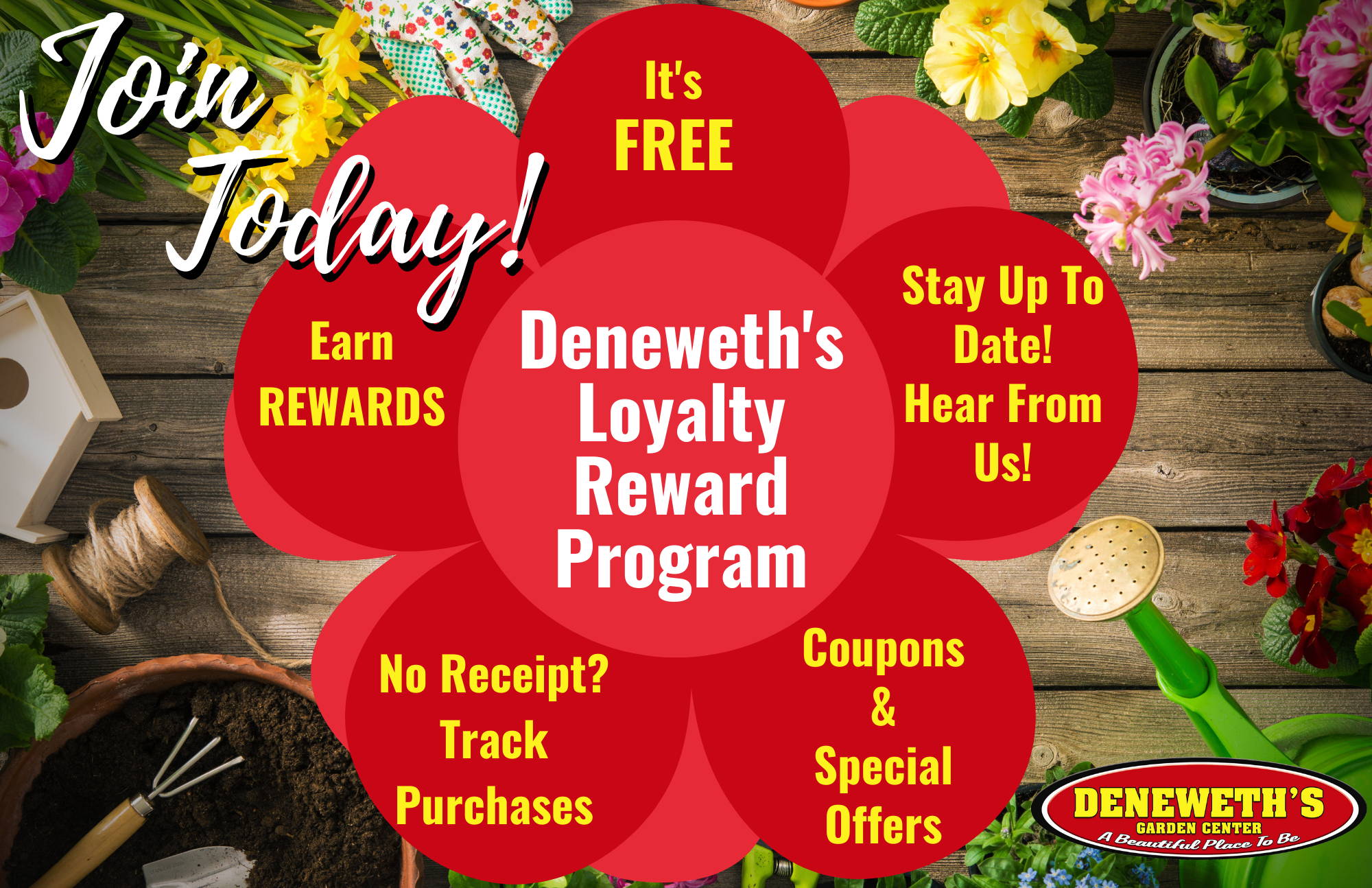 ---
---
When you sign up for the FREE Deneweth's Loyalty Reward program you will receive special offers (such as coupons and event notices) in the mail or email.

Each time you accumulate $100.00 in purchases within the calendar year, you will receive a $5.00 reward added to your account to use towards your next purchase.

These reward dollars never expire and can be used at any time. They can even be used in combination with coupons (some exclusions apply).

The Deneweth's Loyalty Reward program is also helpful when making returns by providing purchase information.

Your account can be used to look up past purchases so you can remember what you bought last year or any available reward dollars to use towards your next purchase.
---
Frequently asked questions
---
Q: How do I sign up?
A: #1 - To join online, please click on this
#2 - Visit any of our locations to sign up in
person.
Q: Will you sell my information to anyone?
A: Deneweth's will never distribute your information to anyone! We have taken all necessary steps to ensure the privacy and confidential nature of all personally identifiable information is protected. Information collected from this opt-in program will benefit our customers so that they can earn reward dollars on every purchase, track past purchases and to receive valuable information on our promotions, products and services.
Q: Why are you changing from Deneweth's Dollars to Reward Dollars?
A: Change is always good! We've integrated with a new system that will enhance your shopping experience. This new system will automate your earned Reward Dollars in real time so that you won't have to wait for it in the mail. Because of this, Deneweth's Dollars will no longer be sent in the mail.
Q: Can I still use Deneweth's Dollars from the previous seasons?
A: Yes, we will still honor Deneweth's Dollars that are in circulation.
Q: How will I get my Reward Dollars?
A: Reward Dollars earned will be posted to your account. An automated email will be sent once you've earned a Reward Dollar. We encourage all our customers to create an online account so that they can conveniently keep track of their rewards and past purchases. Other benefits include advanced notifications of exclusive sales, special offers and discounts.
Q: What happens if I don't have an online account?
A: While it is convenient to look up your Reward Dollars online, Reward Dollars can also be looked up at the register and redeemed at the time of purchase. We'll just need your information you used to sign up for the new Deneweth's Loyalty Rewards Program or the previous Deneweth's Preferred Customer Card.
Q: Are there any exclusions to the new Reward Dollars?
A: Reward Dollars may not be redeemed for cash and cannot be used to pay sales tax. Reward Dollars are earned on all purchases except on sales tax and gift card purchases. However, they are earned when redeeming gift cards.
Q: What if I don't have my account number with me when I want to make a purchase?
A: Your phone number, email address or last name can be used to locate your customer profile.
Q: How many Deneweth's Reward dollars can I receive in a season?
A: There is no limit to how many Deneweth's Reward dollars you can accumulate!