History
OUR AMERICAN DREAM: ONE OF OUR COMMUNITY'S GREAT SUCCESS STORIES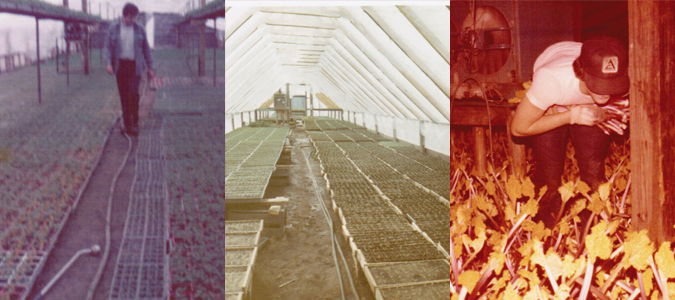 Today we still have many of our great customers that have been with us since Grandma and Grandpa were in the vegetable fields. Their story is one of true desire and perseverance. The following article was written by my Grandma; I was originally going to shorten it for ease of reading but found it difficult to leave any of it out. I hope you enjoy a visit back to our (yours and ours) beginning. Thank you for all of your great times and shared moments, getting to know our customers, our neighbors, is what makes us smile every day.
DENEWETH'S HISTORY
By Carolyn Deneweth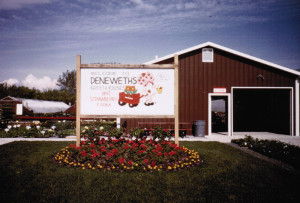 St. Lawrence High School sweethearts, city girl Carolyn Kunkel marries country boy Kenneth Deneweth, in the newly formed parish of St. Kieran's Catholic Church on July 28, 1962.
Our first house was a little cinder block house we rented from Ken's parents (Frank and Frances Deneweth) who truck gardened a 30 acre farm on 21 Mile Rd. in Utica, MI. Ken worked for his parents on their farm the first year while Carolyn worked as a secretary at National Machine Products Co. in Utica. For extra income we rented some acreage on 21 Mile Rd. across from our rented house to raise cabbage, peppers, and cucumbers to sell at the Eastern Market in Detroit while still working on his parents' farm.
September 17, 1963 we were blessed with our first son Kenneth Jr. 
In 1964 a 40 acre farm (no buildings) was found by the parents (Anna & George Kunkel) of Carolyn on 22 Mile Rd. while on a leisure Sunday afternoon country car ride. This was the beginning of Ken's dream to own and operate his own farm and raise his family. Not yet 21 years old, we needed the signature of Ken's parents for the loan and "a house on the property". Determined to meet our challenge, we went to the Highway Department who at that time were putting the M-53 by-pass through Utica. We placed a bid on the 1100 square foot white aluminum house with attached breezeway and garage gave us hope. Our bid was chosen and we proceeded to find a mover. We soon watched "our own home" being moved from 23 Mile Rd. to its present location on the 22 Mile Rd. 40 acre farm.
October 26,1964 we were blessed with our second son Thomas.
The next few years Ken worked driving truck for Betty Brite Dry Cleaners, then for the UPS TruckDelivery Co. before getting a "Die Apprentice at Ford Motor Co", but soon was laid off. The bills kept flowing in. Ken's brother Larry said Pontiac Motor was hiring and so began his mid-night job for the following 3 years working on the assembly line with much needed overtime. During that time span Ken built a wood frame greenhouse behind our house to raise vegetable plants to grow in the fields (cabbage, peppers, and tomatoes). Rhubarb roots were planted in the spring and Ken built a roothouse next to our house to force the roots to produce hothouse Rhubarb for our winter crop. We both had reached the age of 21 years and were able to put the farm loan in our name with full responsibility for payments when due.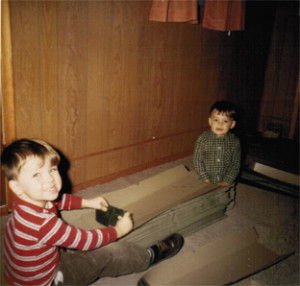 November 19, 1966 Our first daughter, Christine was born.
At Thanksgiving time each year the Rhubarb roots were hauled into the Root house and harvested during the winter months for our winter crop. We picked and packed the Rhubarb for "Perrone Produce Co". Spring came and after three years of working in the factory at Pontiac Motors Ken decided to full time farm. Vegetable plants were grown in the wood frame greenhouse to plant in the fields when warmer weather came and seeds were sown in the fields to produce parsley, mustard, and turnip greens; all to be harvested and taken to the Eastern Market for sale. After all the time and hard work we were not able to make the farm payment and decided to put 20 acres up for sale. At that time the Buckeye Pipe Line was coming through the area and destroyed much of our crops. This proved to be a blessing in disguise as they paid for all the damages on our farm which gave us enough to meet the entire farm payment.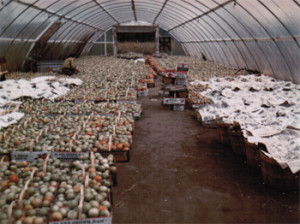 In the late 60's and early 70's we continued raising vegetables and rhubarb but also started raising and packing only #1 tomatoes for the restaurant trade. Sam Serra Produce bought and sold all the tomatoes we could raise. This new income got us on our feet. Our own children were a huge help picking with us after school and on weekends and Ken & I packed in our garage while fields were wet with dew in the morning and at night while the children slept. Always loving flowers, like her mother, Carolyn wanted to raise flowers in the greenhouse. More greenhouses were added to raise the additional flowers, perennials, herbs, and vegetable plants to be sold at Eastern Market. Needless to say Ken took pride in growing quality plants. Flower Day at Eastern Market brought us more sales with customers asking where the greenhouses were located. Pick Your Own Vegetables in the summer was another source for additional income. Soon to follow, we added "Pick Your Own Strawberries," new to our area in 1974. Our 1st two acres brought customers to our farm for the red ripe strawberries. They soon were asking to purchase our greenhouse plants. This was the beginning of "DENEWETH'S GREENHOUSES and STRAWBERRY FARM." Our children Ken Jr., Tom, and Christy were already a much needed help to us on the farm as we began to build our retail business.
We needed to draw more customers to the farm. We distributed our handmade flyers in other retail parking lots and placed them on the windshields of cars. This built our mailing list each year as new customers came to the farm and signed our guest book. With our list getting extensive we drew up a folded version of our flyer giving more information and artwork and went to a printer.
November 22, 1974 we are blessed with our 2nd daughter Julie.
We continued to raise more strawberries and greenhouse plants and soon discontinued raising Rhubarb.
November 22, 1978 Our fifth and last blessing, our daughter Jennifer was born.
With our family complete our little white house was just too small for all of us and Grandpa Kunkel. Not to mention Julie and Jenny slept in a small size crib in the hall closet their first few months. In 1979 we built our new home, moving in February of 1980. This made family life much easier and much appreciated.
We purchased the Pagel farm across the street in 1980 in order for us to be able rotate the Strawberry Crop and Vegetables for Pick Your Own. The Strawberry crop grew to 40 acres, phasing out Pick Your Own Vegetables. Now Deneweth's Greenhouses and Strawberries was thriving. The employees we hired were dedicated and very much appreciated with many of them still with us today. Their loyalty helped form Deneweth's together with our own hard working family. Our sons & daughters helped with the planting in the greenhouses at a young age and later the retail end of the business. Young Ken Jr. and Tom, after graduation from high school, decided to stay with the business and keep the family farm going. With this came more growth and many improvements. Over the years all 5 of our children at one time or another had worked on the farm and in the retail business we built together. By this time Ken Jr. and Tom, after working side by side with their father, had learned all the basics of the Strawberry and Greenhouse business.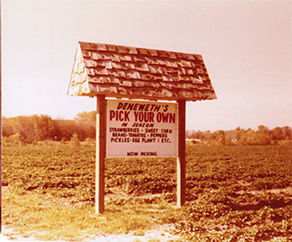 Ken Jr. married Debbie over 25 years ago and with their 3 children (Stephanie, Kenny, and Jason) spent many hours plus years at Deneweth's building what it is today. Tom, a dedicated grower, married Teresa also over 25 years now and their children (Lauren, Nick, and Daniel) also contributed their talents to build and improve Deneweth's each year. Strawberries were eventually a crop of the past, due to lifestyle changes. The younger generation just did not have the time to pick, can, or freeze as both husband and wife were both working at their own jobs due to this change in times.
Ken Sr. & Carolyn began phasing out of the business around 1995 with Ken Jr. and Tom continuing to advance in the technology of growing quality plants here at Deneweth's Greenhouses. We are proud to see our Sons' dedicated to do such a great job. Chris Wilson started at Deneweth's when he was in Jr. High School. He worked while going to college and decided to stay on. Chris, with an accounting degree and management ability, has given his all through the years to help improve the Deneweth experience. Together they strive to make it right.
In 2007, our name was changed and "Deneweth's Garden Center" was born. All varieties of flowers, vegetables, perennials, and herb plants continue to be the Garden Centers main products, along with the nursery trees and shrubs to meet the home gardener's needs. Specialty items, pots, soil needs, and fertilizers are also stocked at the Garden Center to help make it a one stop shopping experience.
Deneweth's Garden Center opened a second location in Hartland, MI in the spring of 2011, hoping to fill the garden needs of future customers in that area with our quality, home grown, garden plants and service. With the dedication of our entire staff here at "Deneweth's Garden Center" we hope to serve our customers with the same quality and service that we have provided through all the years.
Forever Dedicated to your Gardening Needs,                                                                
The Entire Staff at Deneweth's Garden Center
---
It is with a heavy heart we announce that our founder, Kenneth Deneweth, passed away on May 3, 2022. He worked incredibly hard for many years alongside his wife and children to build Deneweth's Garden Center from the ground up and was lucky enough to be surrounded by his family and loved ones until the very end. We will work each and every day to honor his legacy and make the world a more beautiful place, one plant at a time. He will be sorely missed and never forgotten.