Grow Money With Deneweths!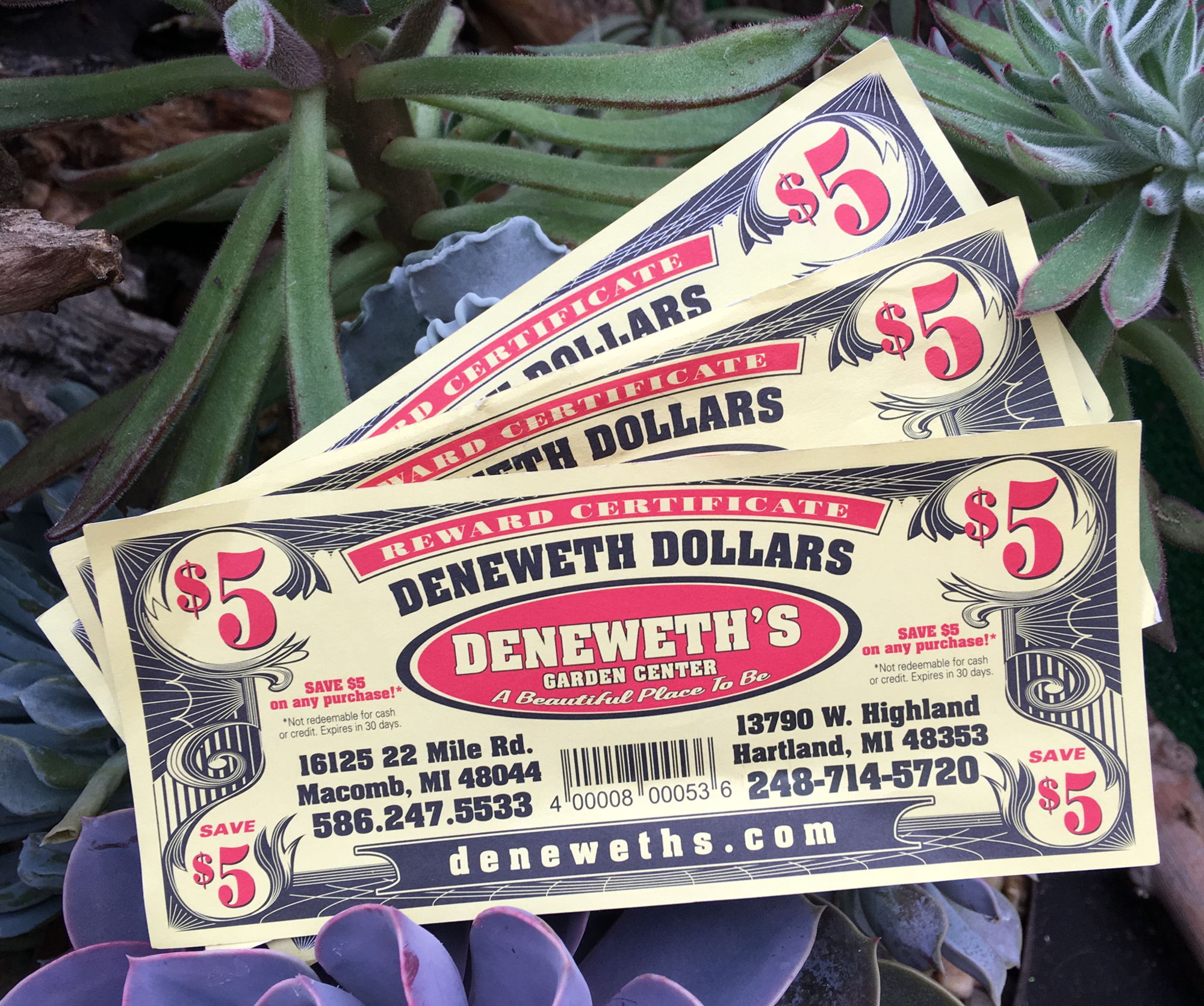 benefits

When you sign up for the FREE Deneweth's Preferred Customer Card you will receive special offers (such as coupons and even notices) in the mail or email.

Each time you accumulate $100.00 in purchases within a calendar year season, you will receive $5.00 Deneweth Dollars in the mail.

These Deneweth Dollars can be used at any time, and they can even be used in combination with coupons!

Other benefits

The Deneweth's Customer Card is also helpful when making returns by providing purchase information.

The Deneweth's Customer Card can be used to look up past purchases so you can remember what you bought last year.

how do i sign up?

Step 1: Sign up for the Deneweth Customer Card in store
Step 2: Purchases accumulate until you reach $100.00
Step 3: Automatically recieve $5.00 Deneweth Dollars in the mail

Frequently asked questions

Q: Will you sell my information to anyone?
A: Deneweth's will never distribute your information to anyone! We respect your privacy and promise to never give your valuable information to anyone.
Q: Will the card cost me anything?
A: The Deneweth's Customer Card is completly FREE!
Q: What if I don't have my card with me when I want to make a purchase?
A: No Card? No Promblem? Deneweth's can use your phone number or last name to locate your customer profile.
Q: How many Deneweth Dollars can I receive in a season?
A: There is no limit to how many Deneweth Dollars you can accumulate!
Q: Can multiple people use my card?
A: Yes, if you reside in the same household.